Designed to provide the best hybrid of performance and geometry. Independent re-engineered the Stage 10 to create a whole new truck, effectively setting a new standard to which all other trucks will be judged.
These 144 Stage 11 Silver trucks have been improved for precise turns, better stability on landings, less high-speed wobble and decreased wheel bite. On top of all this, these trucks guarantee more overall grind clearance with an improved "no hang-up" yoke for the longest lasting performance trucks in the game.
Features
Details
No Hang-Up Yoke
4140 Chromoly Steel Axles
Grade 8 Kingpins
90a Medium Durometer Bushings
Made in the USA
Lifetime Guarantee
Non-Compatible Risers
Risers from the following brands are not compatible with the baseplates of these trucks.
Sizing Reference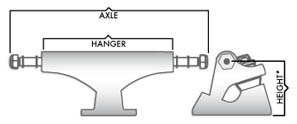 Note – Every skate truck brand represents their sizing a little differently, so it's easy to get confused. Take a look at this graphic and then reference the size chart.
Details
No Hang-Up Yoke – An enhanced yoke around the cushion seat takes the kingpin out-of-play on grind tricks like feebles and smiths.
4140 Chromoly Steel Axles – Chromoly has a high strength-to-weight ratio and is more durable than traditional steel, making it the best option for performance skate trucks.
Grade 8 Kingpins – Manufactured to stand up to the hardest landings and the most brutal street abuse, Grade 8 Kingpins will keep you rolling for years.
Lifetime Guarantee – Covered under manufacturer lifetime guarantee against breakage defects in hanger/base materials or workmanship. This lifetime warranty DOES NOT cover broken trucks due to abuse or neglect, damage caused by any modification done outside the manufacturer's facility, or lost or worn out parts due to lack of hardware maintenance.